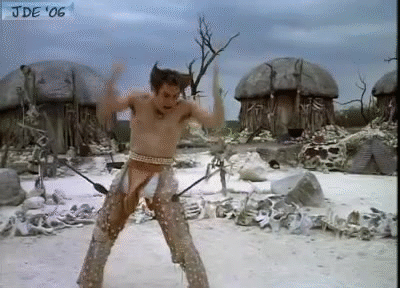 My legs after 18.2
18.2 – Burpees, Why Did It Have To Be Burpees
18.2 – 12 Minute Time Cap for 18.2 and 18.2a
1-2-3-4-5-6-7-8-9-10 reps of:
Dumbbell Front Squats (50 lb.)
Burpees Over Barbell
–then-
18.2A
1RM Clean
Initial Thoughts
Burpees is a movement I hate with a passion! Mainly because my cardio sucks and I take forever to finish large sets. The dumbbells should be okay but I know it will get heavier in the later rounds. The workout looks fun but I know I'm going to start dying in rounds nine and ten. 55 reps of each are going to suck.
Game Plan
My plan for this workout was to keep a steady pace and not go too crazy in the first few rounds. The burpees are going to suck but I would just have to power through it. My first weight for the clean was going to be 185 lb. just to get a score and I would try to push for 225 lb. or more.
The Workout
I set up my first clean at 185 lb. and warmed up to 205 lb. The cleans felt good but I knew I would feel different after the workout. The first few rounds were great and felt too easy. This workout is deceiving because you only get to halfway at round eight. I kept my pace and felt okay up to round eight. I started to feel the burn in my legs at that round and I had to concentrate to control the breathing. The squats were okay but the burpees were killing me, especially since they changed the standards. I could feel the fatigue setting in but I was determined to finish under time cap and get to the cleans.
As I finished the last two rounds, I felt like I was going to throw up. My breathing was erratic and I tried to focus and breathe after each burpee. I finished at 11:25. I would have liked to have finished under 10 minutes but I had to catch my breath and at least complete one clean. With 15 seconds left, I completed the clean. I was disappointed in my performance but at least I finished. I hope 18.3 will be better.
Lift Heavy and Level Up!